Welcome to e-kurier.net
The platform with the freight exchange on a partnership basis.

You are a courier and want to avoid deadheads?


You are looking for a vehicle for your freight?


You want to profit from a lot of other
exclusiv e-kurier.net partner advantages?
Start your 2 months testing period now - of course for free!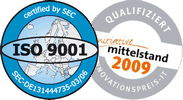 data & facts



As at: 16.07.2018 14:30



At present we are 2015 european
partners working together at
e-kurier.net (now online: 544).

Currently there are 209 freight offers
(incl. 68 internationals).




visitors since 2003 January, 1st